Staffbase is an employee communication platform that now enables you to reach all your staff on FRAMR. too. Show all the news content of a selected channel created in your Staffbase platform.
Setup
Select the "Staffbase Channel" module in the list of available items and click the "Add" button to add the content to your playlist.

Select a region, in which your Staffbase backend is hosted, and enter an API Token for authentication into the next input field. For more detailed information about Staffbase API see the help article at https://support.staffbase.com/hc/en-us/articles/360015755691-Generating-an-API-Token.
Once the channel was loaded successfully, you can select one of your Staffbase channels in the channel selector.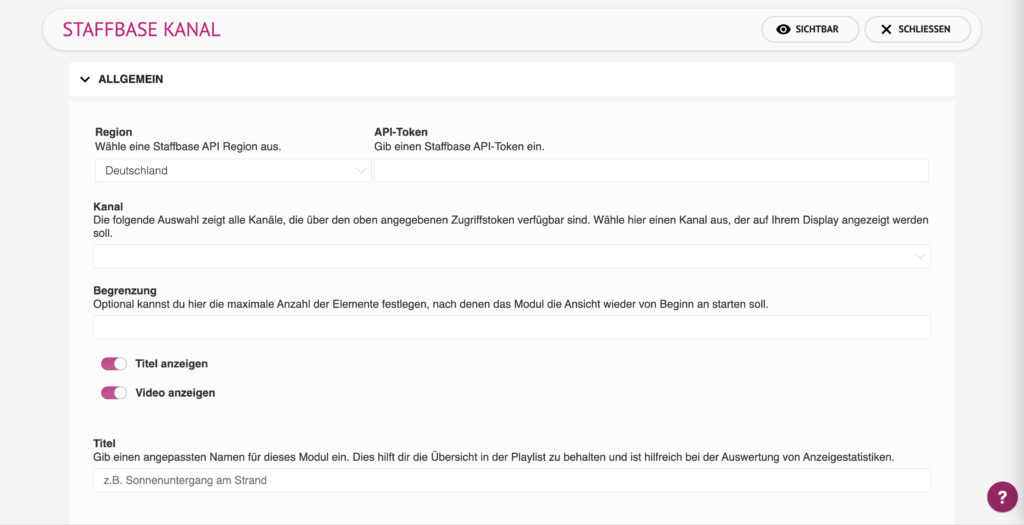 Limit
You can specify the number of elements after which the first post in the channel will be displayed again.
Show title
With this option you can show or hide the title of your post on the screen. Without the title, only the description text will be displayed on the monitor.
Show video
If a video has been added to your Staffbase post, you can enable the playback of this movie by activating this preference. The video is started after the article, the display duration of your module is extended by the duration of your clip accordingly.
Search support